My ear perked up when I heard someone talking about the cross-country skiing in Sun Valley. I was sitting at a coffee shop in Jackson Hole this past summer and two women at the table behind me were talking about their upcoming winter vacation to Sun Valley, Idaho. I had to wonder if they were locals of Jackson, or visitors seeking out the best of the best ski town destinations. Either way, I stopped scrolling through my facebook feed on my phone and ease-dropped on their inside scoop of 'Nordic talk' in Sun Valley.
Come to find out, Sun Valley has some of the best cross-country skiing in America. Between the top quality of the trails, the training programs, and clinics offered for all ages of abilities, the experience is unparalleled to other resorts.
The Sun Valley Nordic & Snowshoe Center offers state-of-the-art trails and a beautiful club house. There are over 40 km of groomed trails that are maintained daily to offer incredible Nordic skiing for both skate and classic skiing. The trail system provides consistent conditions that can be enjoyed for all levels.
If wanting to experience an 'off ski' activity, the Sun Valley Nordic & Snowshoe Center is also a great place to explore by snowshoe. Clear your head for a peaceful snowshoe walk with amazing forest and mountain views. The serenity will leave you relaxed and in awe.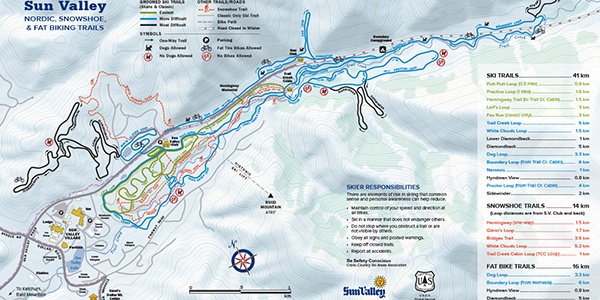 Ski and snowshoe equipment for all ages is available for rent. The Sun Valley Nordic & Snowshoe Center is located in the Sun Valley Club located approximately 1 mile east of the Sun Valley Lodge. For more information please, call (208) 622-2250