If you're planning on coming down with a case of "Powder-itis", Joel Gratz wants to make sure you make it count. As the founder of OpenSnow, Joel has spent his life becoming an expert on snow, from a childhood and college career ski racing, to a meteorology degree from Penn State and and a Master's in Environmental Studies and MBA from CU Boulder. While he was in Boulder, he realized he was missing out on some of the best powder days because of the difficulty of forecasting snow accurately for Colorado's large mountains.
Never wanting to miss another powder day, he threw his focus into studying the unique weather patterns of Colorado's mountains, and started sharing his snow-specific forecast via an email list in 2007. Over time, his small email list evolved into a full-time job with the help of his business partner and fellow snow-obsessed meteorologist and programmer, Andrew Murray. In 2011, they created OpenSnow.com, which has evolved into the premiere snow forecasting service for skiers across the globe.
OpenSnow Helps Me Snag the Best Reservation Days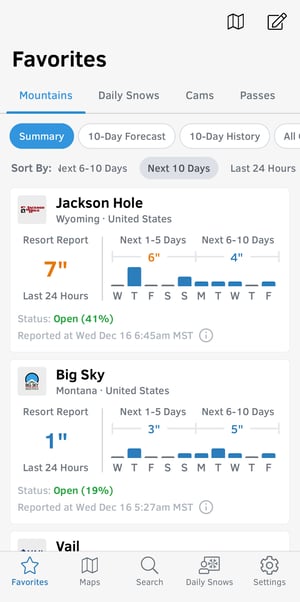 While it's easy to get a snow REPORT on how much it has already snowed, with many resorts using a reservation system this strange ski season, you want to know how epic the snow's going to be before it happens so you can make sure to snag the best days. Vail Resorts are running on a 7 day rolling reservation system, so you are going to want your best guess for the conditions at least a week out. OpenSnow offers trusted 10-day snow forecasts for members, so you can make sure to lock in the deepest days before anyone else even knows a huge dump is on the radar.
As a former ski instructor now living in Denver with some job flexibility, I want to make sure if I'm going to take the morning off to get some turns in, that it's going to be worthwhile, and that I can get my reservation in on time. I've opted for the All-Access subscription, that lets me see the forecast at all my favorite resorts 10 days out. OpenSnow even gives me daily snow updates at the resorts I frequent the most, and even helps me choose when it's worthwhile to take that once-a-winter trip to a destination that's more off of the beaten path.
If you're planning to make the most of your season pass this winter, you need to check out OpenSnow. Get your powder days lined up before everyone else and you'll be getting first tracks with me while they're still sitting in I-70 traffic.